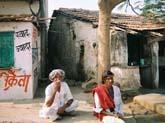 The Udaipur health survey is collecting data on health and economics from rural households and health facilities in the Udaipur district of Rajasthan in northwestern India. This is a poor area of India, much of which was originally the tiger-hunting preserve of the Maharanah of Udaipur. Although the countryside is spectacularly beautiful, it now suffers from overgrazing and environmental degradation. The area is farmed by tribal people, few of whom are educated. The survey is interviewing members of around 1,000 households in 100 villages, asking them how they earn a living, about their physical and mental health status, and about their experience of healthcare.
Complementary surveys are collecting information about village infrastructure and about the clinics and medical personnel that people use, including traditional healers. One aim is to discover more about the quality of healthcare, how well it serves the people who use it, and the extent to which it contributes to health status. More broadly, the study will help us to understand the determinants of health, as well as the relationships between health and economic status, and how they work together to determine wellbeing.
This is a collaborative project with Abhijit Banerjee and Esther Duflo at MIT, Jishnu Das at the World Bank, and Seva Mandir in Udaipur.
Here's more detailed information about the Udaipur project and photos of the research site. The data and documentation are available here.
Papers on the India Health Survey
"Health Care Delivery in Rural Rajasthan" (with Abhijit Banerjee and Esther Duflo) Economic and Political Weekly, February 28, 2004, v. 39, iss. 9, pp. 944-949.
"Wealth, Health and Health Services in Rural Rajasthan", a paper detailing the results of this project, will be published in the American Economic Review (May 2004).